Well, about 3 hrs. ago (45 min. later then planned) my Sarah headed out to Kansas City, Missouri to go to IHOP (International House of Prayer) for 3 MONTHS!!! Ray, Hannah and Olivia drove with her and then they are going to help set her up in her apartment and fly home tomorrow. Coty followed them but that is for my next blog!! I know that 3 mths. isn't long to most but in my families mind that is a 1/4 of the YEAR!!! WOW!!! She has traveled for long periods of time - 3 weeks in India - 1 mth. in Israel&France - 2 weeks here and there, Philippines - also 6 weeks for 2 summers in a row at Camp (YFN). But NOT 3 mths!!! She may come home for Thanksgiving but that is not for sure - SO, she is GONE!!! YIKES!!!

She is my VERY most independent child and she was created to do what she is doing!! Her independence has driven me crazy over the years from the time she was LITTLE bitty, but I have grown to LOVE the independent woman that she is. The Lord has stretched her in more ways then she has agreed to lately but through everything she has walked a testimony of trusting the Lord with her life!! SO....she is gone for 3 mths. - we pray!! Her desire is to come home but she has NO IDEA what the Lord may desire - that is were I come in - not wanting to give her physically up, but knowing I MUST!! It is a very different season for Ray and I - the sisters aren't happy but KNOW that she is walking in God's will - Grant isn't happy and doesn't really care about God's will at this point. Grandma is SO HAPPY that her "Sarah Belle" is going to do what my mother is SO PASSIONATE about - PRAYER!!! The only way that as a Mother I can explain how I feel is this --- I have had this quiver full of arrows (our children) and I feel as though I have reached back and got 1 of those arrows and launched it into the sky!! Not really certain where it will land but confident, FULLY relying on God to take care of that arrow and make it land EXACTLY where HE needs it to BE!!!

We are all looking forward to Sarah seeking the Lords face and beginning a brand new season that is going to re-fire her desire to run this incredible race that she has ALWAYS ran, but just slowed down for a time!! She is SO FOCUSED on wanting what the Lord wants for her life!!

God is so good to me - when they left Grant was upset and I told him I would go to McDonalds to get him a burritos (to get his mind off of things). When I got in the truck a CD was playing - it was Misty Edwards singing "Finally I Surrender" and the 1st words from the song are - All I want is, YOU to have your way - WOW!!! That has been my anthem for ALL the years I have been a Mom but OH GOD did I need that song!! I cried all the way there and back. When the words - I surrender all came on I knew that I knew that the Lord wanted me to surrender her to HIM - again!!! It was so precious of Him to give me that song! I can't wait to tell her later about that.

I just wanted to take a second to tell all of Sarah's friends how overwhelmed we all have been with your love and support for her!! You would think that she was going to war with how much support she has got. My kids have some of the BEST FRIENDS in their lives. You ALL make them better. She has had more lunch and then dinner dates in the last 10 days - in the last 2 days I bet we have had 20 friends come to say goodbye, bring her stuff (Casey), just LOVE on her and reluctantly let her go. Sarah is a VERY unique person - she is so many different things to all of us. To me she is my source of STRENGTH on earth - she has gotten me through some tough times in my life. When Ray isn't here Sarah is who I go to when I need prayer, when I need a stern word to TRUST GOD. Her faith in the past is unwavering (I can't wait to see that again)!! Her black and white personality has always WOWED me!! OK - I was doing good till now - tears flow - To her sisters she is their ROCK!! I think it has rocked our family to see her go through trials lately because Sarah isn't usually shaken by much!! To Ray she is a friend that he can spend hrs. talking about the Lord with! To her friends she is MANY, MANY things....and the girl has friends!!! ALL OVER THIS WORLD!!!

Since I want to put some pix. and videos in this blog (because that is fun) - I will tell you about Sunday. Sunday during our worship time I took some video on a camera - not the best sound & its dark - but I will share that with you all. For those of you that haven't seen her worship, that is her HEART - if you truly know Sarah you know that she is the MOST fulfilled worshiping her GOD!!! It was a powerful time and then came the time that we put her in the middle of the living room and we ALL prayed over her. To hear every one of her sisters pray a POWERFUL prayer over her and her Daddy of course, it was truly unforgettable - and I knelt at her feet, unable to pray, just ugly cried!!! Then so many of her friends prayed, it was AWESOME. Everyone covered EVERYTHING, spirit, soul and body!! She is covered

d!!
So here is a song from Sunday. It's VERY interesting how the song she is singing says - Lord have YOUR WAY!!
And this is another song~
So that is a little of what she is going to do in KC - WORSHIP at the throne of God and PRAY to the Lord for His kingdom to come and His will to be done!!
She is going to be having th

e midnight to 6am prayer watch - which will be a stretch for my Sarah!! She has worked the last mths a job that she had to get up early so she is in the habit of going to bed early!! So, it will take her body some getting use to!!! But we as a family are going to be doing the watches with her. There is 6 of us and we are going to take 1 night a week each and stay up with her (she has 1 night off). On our watch we will watching on the internet what is going on in the prayer room that she will be in and we will be praying for all the things she is. It will be our way of joining in with her prayers!! Then 1 day a week she has to fast and we are going to fast as a family with her. I believe it is $10.00 a mth to subscribe to IHOP's prayer room - and if you do you may just see Sarah praying heaven down - and after she has been there a mth. she can audition for a worship team and she would be up doing worship!! Very exciting for her!!!

Well that is what is going on with 1 of the Baker kids and for all our friends on Myspace I wanted to share some of the details of our journey. OH, to pictures - my favorite. Yesterday we had an AWESOME day!! The 5 kids were gonna go on a date. Ray couldn't get away from work (which NEVER happens, but it did yesterday) so he left Grant with plenty of money to take HIS girls out for a DATE!! Well I got invited so we all 6 went to Pappadeaux for an AWESOME lunch (thanks to Austin for recommending yummy dishes)!! Of course I took a camera and that restaurant has some really pretty areas outside, so we just had to have a little photoshoot!! So here are a few of them.....

The FIVE!!!



On our way for the day!!



At the restaurant - Grant had ALL his weight on Sarah's shoulders!! We also couldn't stop laughing because the boy CAN'T smile!! AND he talks ALOT so every picture is him in mid sentence!!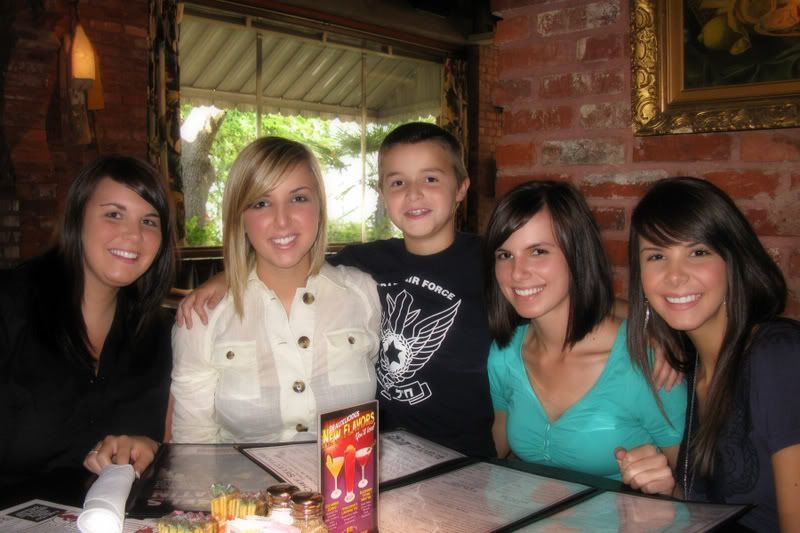 Then 1 of Sarah and her guy!!!!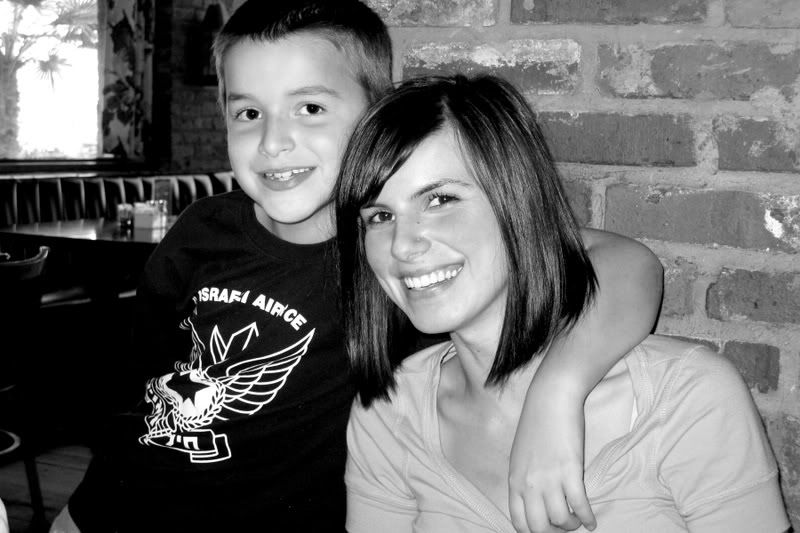 OH, and 1 more of Grant and Sarah - my fav!!!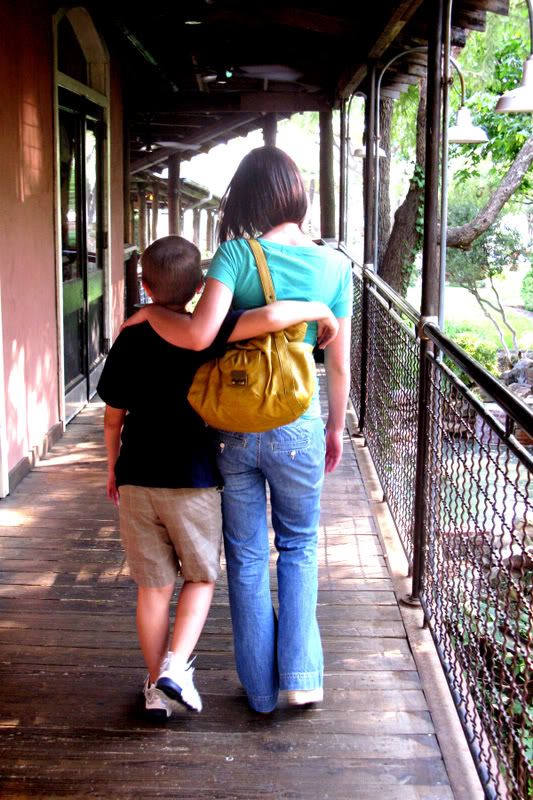 Well that is all for now. If the Lord places on your heart to pray for Sarah, please do. She will probably be praying at some time for all of us!!! So Sarah if you see this don't be mad about the video clip - YIKES - and have the time of your life - meeting new people from ALL over the WORLD - spending time with just YOU and JESUS - spreading your wings and FLYING!!!! Know that you will TRULY BE MISSED and it won't be the same around here without you!! I love you my little one!! Go in PEACE and SERVE GOD WELL!!!! Walk in the FAVOR of the LORD!! We will see YOU in 3 mths. - I PRAY!!!!!